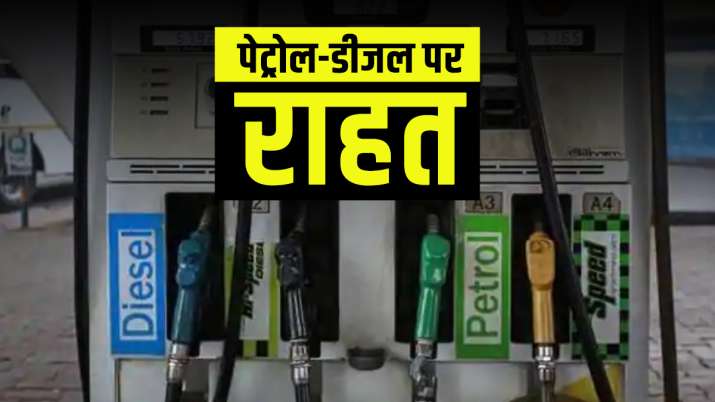 New Delhi. After the reduction of gasoline and diesel prices on Diwali day, the process of relief to ordinary people continues. There have been no changes in oil prices in India since November 4. Today, Wednesday, November 10, the oil companies have kept prices stable.
Let us tell you that on the occasion of Diwali, the Modi government in the Center reduced the excise tax on gasoline and diesel by Rs 5 and 10 respectively. So there was a VAT reduction by the states on the icing on the cake. After the big cuts by the Center and the states, there has been a big difference in the prices of gasoline and diesel in the different states of the country. Diesel prices across the country have been reduced from Rs 5 to Rs 17.
Difficulties for the inhabitants of Delhi increased
At present, the Delhi government has not reduced any VAT. But gasoline diesel has gotten cheaper in the neighboring states of UP and Haryana. While the price of gasoline in Delhi is 103.97 rupees per liter today, it is getting 95.51 rupees in Noida, adjacent to UP. That is, the price difference is Rs 8.46. While in Gurugram, Haryana, gasoline is priced at Rs 95.90. However, in diesel, this difference is not much. Diesel is priced at Rs 87.01 in Noida and Rs 86.67 in Delhi.
Rs 12 difference between UP MP
Now let's talk about Uttar Pradesh and Madhya Pradesh. The gap between gas prices here is huge. If we talk about two border towns, where gasoline in Madhya Pradesh's Datia district costs Rs 107.93, while in adjacent Jhansi it is Rs 94.92. That is, only 15 km. From a distance, you get gasoline 12 rupees cheaper.
What is the difference between Bihar and UP?
Speaking of the fringe states, the difference is also visible between Uttar Pradesh and Bihar. The price of gasoline in the Ballia district of UP, adjacent to Bihar, is Rs 96.06. Across the border, in Bihar's Chhapra district, gasoline is available for Rs 106.58. That is, there is a huge Rs 10.52 difference in price between the two states.
The same is true in other states.
This gap between the main metropolitan areas and states of the country in terms of prices is increasing. The price of diesel in Jaipur, Rajasthan, is 95.71 rupees, while gasoline is sold at 111.10 rupees per liter. Diesel is currently available in Mumbai at Rs 94.14 per liter, while the price of gasoline is Rs 109.98 per liter. The Maharashtra government has not made any announcements to reduce VAT on diesel gasoline. The price per liter of gasoline in Chennai is Rs 101.40. Diesel costs Rs 91.43 in Chennai and Rs 86.67 per liter in Delhi.



www.indiatv.in