News Desk, Amar Ujala, Farrukhabad
Published by: Prabhapunj Mishra
Updated Sun, Nov 7, 2021 12:38 PM M. IST
Summary
At Fatehgarh District Jail, inmates started creating a scandal on Sunday following news of the death of an inmate at the hospital during treatment. After attacking the jailer and throwing stones at him, they set fire to the jail.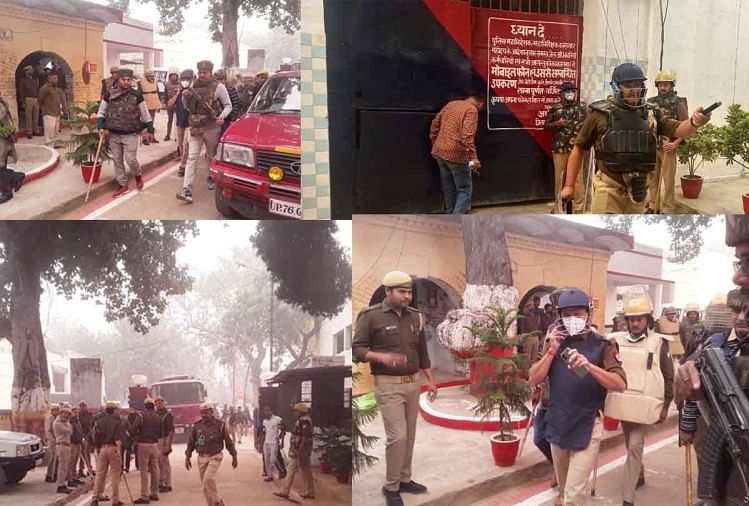 Ruckus in Fatehgarh Jail, police administration present on site
– Photo: amar ujala
Expansion
At the Fatehgarh District Jail in Farrukhabad, Uttar Pradesh, inmates threw stones and set them on fire in the morning. Seeing the flames, there was a commotion among the prisoners. An alarm was sounded in the jail due to the fire. Officer Jitendra and a prisoner were seriously injured in the attack. He's been sent to Lohia Hospital. The prisoner has been shot in the stomach. The soldier has a stone in his eye.
In information, CO City Pradeep Singh and Fatehgarh Kotwal Jaiprakash Pal arrived there with some soldiers. The alarm has been sounding continuously for about 30 minutes. The detainees had attacked Deputy Jailer Shailesh Kumar Sonkar in the morning. He beat them fiercely.
Only after this did the bubble begin, according to information received so far, Sandeep, a resident of the Merapur police station, was booked into the district jail in connection with the murder. He was referred to Saifai after his condition worsened. He died during treatment. Upon obtaining information in this regard, the prisoners attacked the jailer in the morning. The sound of three shots from jail.
The police are said to have opened fire to control the situation. The inmates allege that Sandeep did not receive treatment in time. That is why he died. Prisoners have also accused of not having received adequate food on Diwali. They say that due to the non-opening of the facilities on Diwali, the prisoners were not even able to meet them in the immediate vicinity.
Sandeep Yadav, a prisoner at Fatehgarh District Jail, died during treatment at Saifai PGI. There was a commotion in the jail as soon as the information about the death of the prisoner was received. The prisoners threw stones and set the jail on fire. The jail police regained control in time.


Pramod Shukla, Chief Superintendent of Central Prison, Fatehgarh

www.amarujala.com