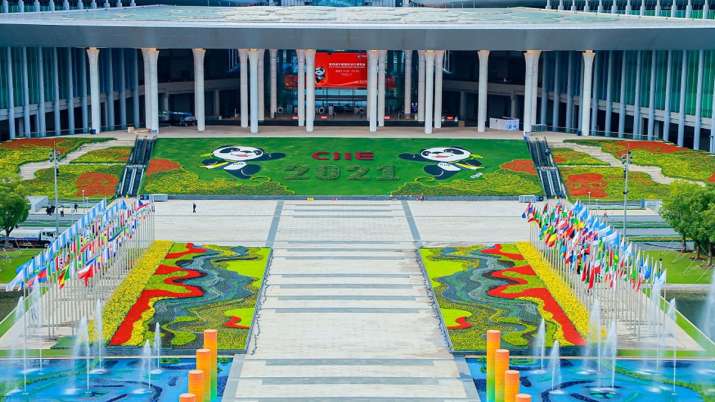 Beijing: China's famous import expo started in Shanghai in the absence of Indian companies, amid the possibility of India-China bilateral trade reaching a record $ 100 billion. Chinese President Xi Jinping formally opened the 'China International Import Expo' (CIIE) on Thursday via video link.
According to expo participants, due to travel restrictions related to Kovid-19, most companies and firms from other countries were represented by their local agents. Officials say travel restrictions imposed during the pandemic are the main reason Indian businessmen were unable to attend the expo, which began four years ago. Since last year, China stopped granting visas to Indian citizens and at present they do not even operate flights between the two countries.
Because of this, thousands of Indian students studying in Chinese educational institutions and hundreds of Indian businessmen and families are stranded. The 2019 CIIE Expo was attended by an Indian delegation led by Trade Union Secretary Anup Wadhawan. But with the spread of the corona virus infection and the tension on the border between the two countries, there is not much interest among Indian businessmen to interfere in the Chinese market.
However, this exhibition takes place at a time when the bilateral trade between India and China is on the verge of approaching $ 100 billion. Two-way trade has exceeded $ 90 billion in the first nine months of the calendar year. According to China's customs department, trade between India and China stood at $ 90.37 billion at the end of September 2021, up 49.3 percent from the same period a year ago.
It is estimated to exceed $ 100 billion by the end of next month. A report published in the Chinese state newspaper 'Global Times' quoted experts as saying that India's absence from the exhibition is a contradiction in the midst of the remarkable boom in trade between India and China this year. This time, not a single Indian company participates in this exhibition.
Chinese President Jinping said in his opening speech that China would share the market with the rest of the world and increase imports from its neighboring countries. Referring to the huge middle class that exists in China, he said that it is a huge market and that China will work towards a balanced development of the business.



www.indiatv.in